Facilities, Equipment, and Expertise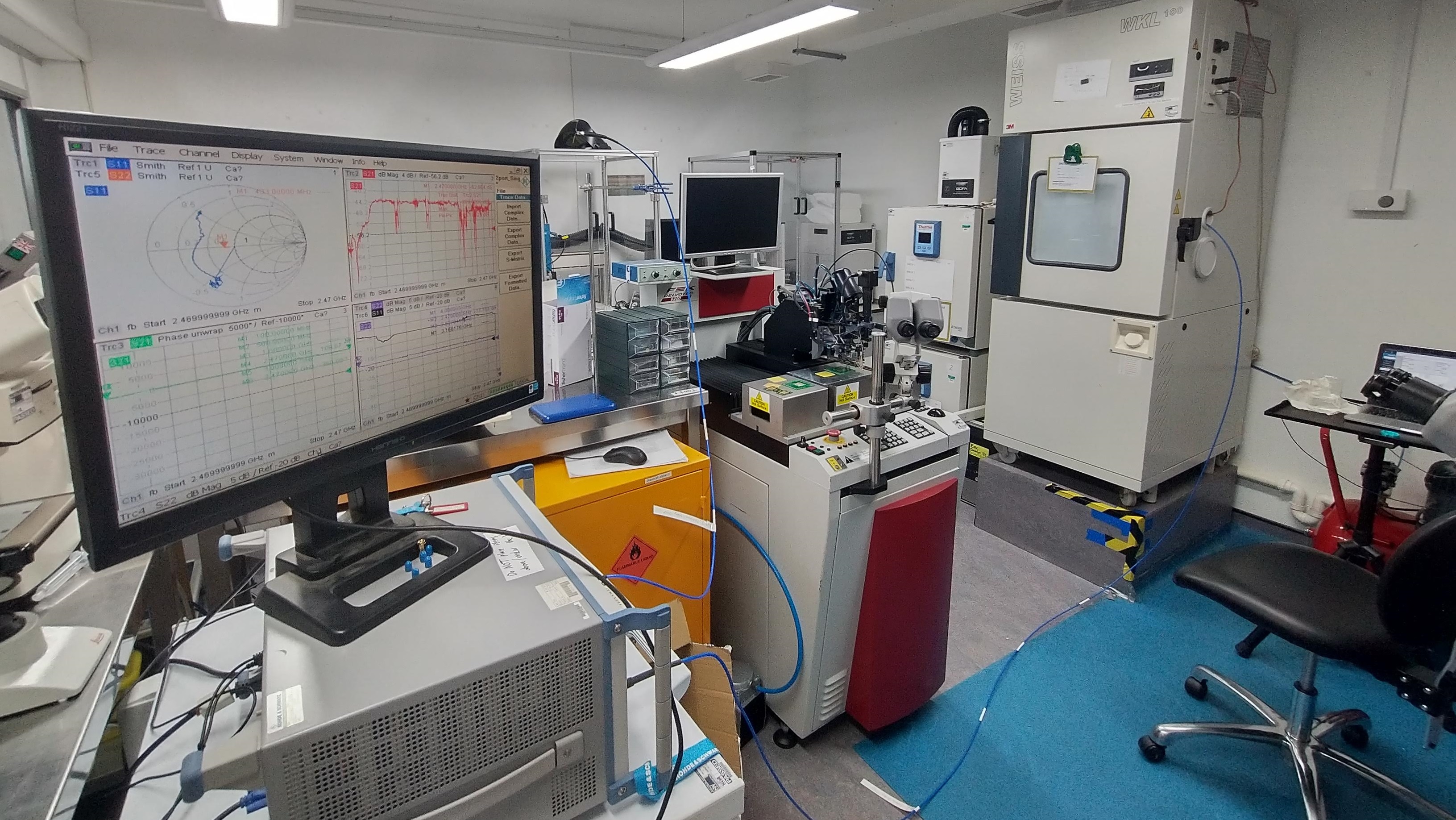 Our research uses state-of-the-art facilities covering flexible and printed electronics fabrication, RF characterization and vector network analysis from a few Hz to 67 GHz, and material characterization and microscopy kits.
Electrical Characterization and Electronic Systems Development:
Our facilities, located within the SEMS groups lab, include:
R&S ZVB4 VNA: two-port calibrated s-parameter measurements from 150 kHz to 4 GHz; time-domain analysis and active devices bias with a variety of measurement cables and fixtures.
HP (Agilent) 500 MHz VNA: 10 Hz to 500 MHz s-parameters.
WKL climate chamber for temperature and humidity control
UHF RFID readers and antennas covering the EU and US frequency bands
1 W RF Power Amplifier up to 4 GHz and assorted attenuators and cabling
4-channel Tektronix/Agilent oscilloscopes (500 MHz) and logic analyzers
Voltera dispenser printer for rapid circuits/antennas prototyping
Various FDM 3D printers
Zeiss optical microscope
LoRaWAN TTN outdoor gateway
A range of commercial and in-house IoT boards based on ST-Microelectronics (STM32), Texas Instruments (MSP430/Arm SimpleLink), Arduino, and others.
In addition to the SEMS electrical and electronics labs, we make regular use of shared core facilities across ECS and FEPS including:
Agilent PNA (10 MHz to 67 GHz) for calibrated two-port s-parameter measurements of connectorized (1.85 mm to 2.92 mm and SMA) and on-wafer devices
Printed electronics laboratory, including extensive screen and inkjet printing facilities
The Zepler Nanofabrication centre
Material characterization, SEM, and optical surface profiling kits
Our design, fabrication and measurement expertise include:
Multi-layered flexible circuits fabrication based on copper laminated and screen-printed low-temperature silver inks.
RF devices, antennas, and material characterization up to 50 GHz.
Multi-source energy harvesting and low-power sensor nodes
Extensive mechanical reliability testing of flexible and wearable circuits